Had a performance in Algoma, Wisc today. Their elementary school's theatre is being rebranded as the Algoma Performing Arts Center. It's more than just a cute idea. They're bringing in music acts , comedy, other performance. Open to the public. Any profit they make after paying the performers goes to local charity groups. It's a neat idea. Really cool theatre and excellently nice people.
On the way got my first hug (since the start of this project) from Jessica Blavat. One of my long-time, loyal and funny friends and performers. She's also my neighbor. Good hug. I've noticed that people now are hugging me longer. I think it's from knowing about this… or maybe I'm giving out the signal that it's okay to hug me longer.
Show went very well. After the show we were saying "good-bye" to the crowd. A young lady who had… I don't know what you call it. I've been told that "mental retardation" is the wrong term now, but I don't know the equivalent term. Large glasses, distorted facial features, stunted posture. Her language skills were minimal. Another young lady was escorting her around.
"She says you're 'crazy'… she means it in a good way." she said. The the girl with the glasses tucked her head down and moved her arms out a little bit. Mike from a week ago *might* have read the cue, and *might* have hugged without feeling self-conscious. Probably not. Mike one week into this project though went in and had a great hug for both of us.
Returned to the club (Oh, for those who don't know me and are reading this blog… first off, "HI!" Secondly, I own an improvisational comedy troupe called ComedyCity and we perform at an art bar I own called The Green Room. I refer to both as "the club") I got a number of hugs from various troupe members. Got a first hug from Nick Wallander. This hug was delivered with the instructions that it was coming from Nick's ladyfriend Amy Jo Vigue. She couldn't make it there. She follows my blog. She told Nick to give me a hug… oh, and this pumpkin.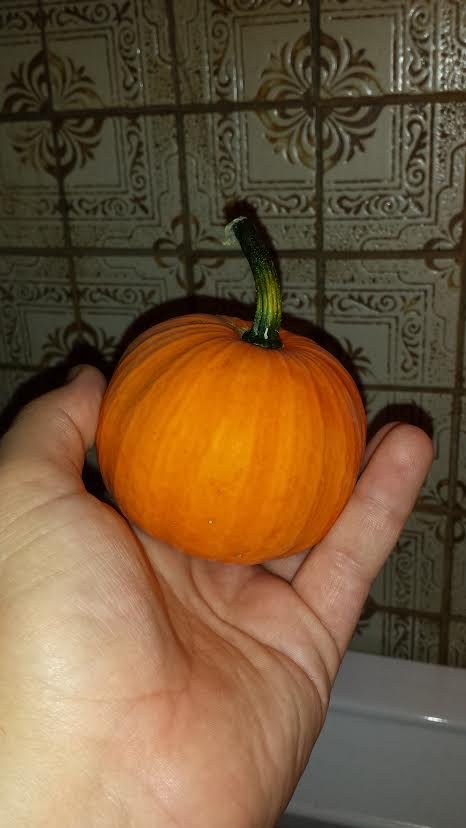 Nick gave a twice as long hug. Second half was from Nick.
Thanks everyone! And thanks for the pumpkin, Amy Jo.
#5hugsaday